Description
Elizabeth Murray | Connect with your Creative Spirit
May 24–27, 2020
Postponed due to COVID-19 Pandemic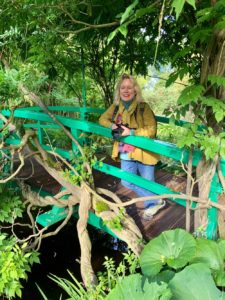 ​Monterey, California artist Elizabeth Murray has cultivated the gardens at 
Monet's Giverny
and the soul of countless creative artists. Join us as Elizabeth Murray leads a personal emersion workshop that includes watercolors of the Kentucky Bluegrass and also painting in some of Kentucky's finest private gardens. Her work captures the sights and sounds that makes the spirit soar. Over the course of the four-day workshop, you will dream, dine, paint and sense what Elizabeth has in store for you in the fertile Kentucky springtime!
Accommodations, Food and Transportation
Accommodations are not included.
The area has some hotels, and comfy inns. Below are some options to stay near our studio.

Wildflower Ranch Inn (859) 481-4576 • Located on the same property as The Art Distillery and is own and operated by Rich Brimer & Carol Henry. Art workshop students who reserve a 4-night minimum during any workshop, will receive 25% discount when booking. We have a limited supply of accommodations for our workshops students. If you wish to book a room with us, please contact us as soon as possible to reserve your space. A non-refundable 50% deposit is required when booking your room.
AIRBNB has a few offerings around the area. They vary in price depending on the location.
Hampton Inn • (270) 699-4000 • 1125 Loretto Rd, Lebanon, KY 40033. Mention The Art Distillery to receive our corporate discount.

Breakfast will also be included for those staying at Wildflower Ranch Inn
The workshop includes lunch M-W.
We will likely be going out for dinners and each person will take care of their own dinner bill.
Ground transportation to/from painting locations is included.